Professional Engineers Registration Act 2019 -Defining a Professional Engineering Service & Prescriptive Standards
If you provide a Professional Engineering Service, mandatory registration of Civil Engineers (including Land Development Engineers) is required by the Professional Engineers Registration Act 2019 from 1 October 2022. This means that if you are not registered with the Business Licencing Authority by this date, you will not be legally entitled to provide Professional Engineering Services in Victoria after that date.
A Professional Engineering Service is defined in section 3(1) of the Act as "an engineering service that requires, or is based on, the application of engineering principles and data –
• to a design relating to engineering, or
• to a construction, production, operation or maintenance activity relating to engineering other than an engineering service that is provided only in accordance with a "Prescriptive Standard;".
A Prescriptive Standard must meet all of the criteria below:
· Provides a physical or electronic record of the procedures or criteria for the activity it covers
· Details and explains exactly how the procedures or criteria will apply to the activity it covers
· Requires little or no choice or engineering judgement to apply the procedures or criteria it sets out
· Does not require advanced scientifically based calculations to apply the stated procedures or criteria
The prescriptive standard exemption from registration applies if an engineering service is provided:
· in accordance with a prescriptive standard; and,
· only in accordance with that standard
Land Development Engineers, utilise many Prescriptive Standards in our day-to-day work. These may include the sizing of a private water supply main or drainage pipe in accordance with AS 3500; however, there are many instances where engineering judgement is required to tailor engineering solutions for our clients – for instance:
· preparation of a drainage management strategy,
· modelling and design of a stormwater network,
· preparation of water sensitive urban design,
· preparation of road, intersection, structural pavement, culvert, water or sewer main reticulation design
To illustrate what constitutes a Prescriptive Standard, let's consider the use of the MRWA Standard drawings for a water main design for a residential subdivision and test these against the criteria in the Act.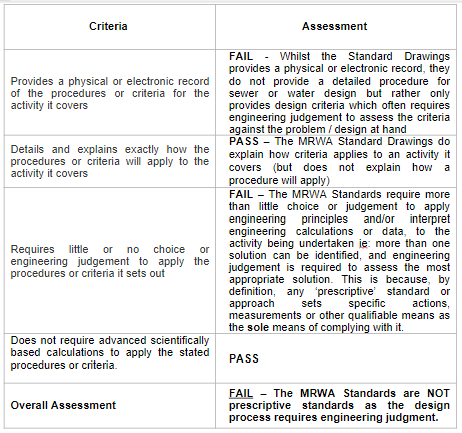 For completeness, it is noted that, where a professional engineering service/s deviates even slightly (ie: a dispensation is sought) from the process detailed in the prescriptive standard being used or includes engineering services being done outside that standard, the prescriptive standard exemption will not apply.
Having established that Land Development Engineers are required to be Registered Professional Engineers, ALDE will provide further details on the implications of the Professional Engineers Registration Act on our industry in the coming editions of the Conduit newsletter and through our website.
Discussion will include:
· How do you become registered?
· What is direct Supervision?
· Do you need to be a registered engineer to undertake sewer and water auditing?
· What implication will registration have on the industry (human resources, registration requirements, professional fees)
· Will Engineers working for Council's and Authorities need to be registered?
· Consequences of malpractice
Further information on the Professional Engineers Registrations Act can be found at the Consumer Affairs website.
https://www.alde.com.au/wp-content/uploads/2019/05/logo_2_green.png
0
0
alde.admin
https://www.alde.com.au/wp-content/uploads/2019/05/logo_2_green.png
alde.admin
2022-02-24 11:42:19
2022-02-24 11:51:09
Victorian Professional Engineering Registration