ALDE SubCommittees
Ever wondered what happens on an ALDE subcommittee? A lot of our initiatives, direction and activities are undertaken by the fantastic volunteers who make up the various subcommittees. They meet regularly and workshop and co-ordinate a lot of the 'behind the scenes' of our organisation.

ALDE has 14 subcommittees and they cover a range of different areas of interest in relation to the running of ALDE, as well as the advocacy we take part in on behalf of the wider land development industry.
The subcommittees fall under various categories:
Strategic – assist with the operations and directions of ALDE as an organisation.
Technical – assists with the advocacy with different authorities and stakeholders.
Regional – offer a region specific approach to local issues.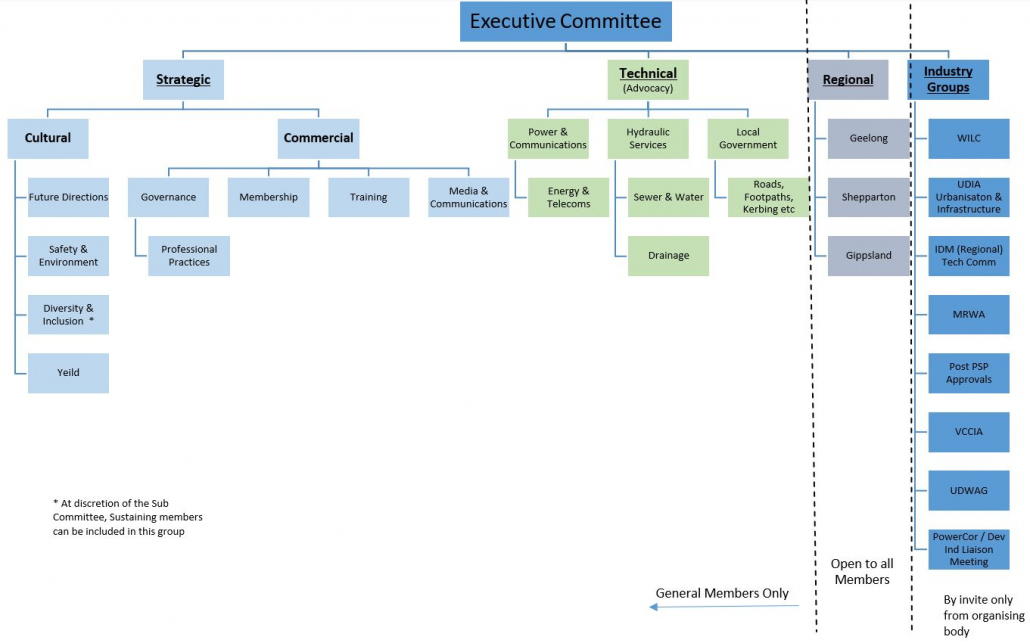 The goal of each subcommittee is to create communication lines within each area to allow fast and effective feedback to and from the Executive Committee, to resolve any issues as needed. All subcommittees are advisory only and can only act as directed by the Executive Committee. Sub-committees are required to meet at least 4 times per year. 
An Executive Committee Member is required to be included in each of these subcommittees. 
The full list of ALDE Subcommittees are:
Safety & Environment Committee
Training Committee
Media & Communications Committee
Telecommunications & Gas Committee
Electrical Committee
Local Government Committee
Diversity & Inclusion Committee
Governance Committee (Closed to Executive board)
Membership Committee (Closed to Executive board)
Future Directions Committee
Young Engineers in Land Development (Yeild)
The Regional Subcommittees are:
Geelong Committee
Gippsland Committee
Shepparton Committee (proposed)
An ALDE representative is also invited to participate in a number of relevant external industry groups as part of our relationships with particular organisations.
https://www.alde.com.au/wp-content/uploads/2019/05/logo_2_green.png
0
0
alde.admin
https://www.alde.com.au/wp-content/uploads/2019/05/logo_2_green.png
alde.admin
2021-10-27 13:55:50
2021-10-28 10:36:43
Spotlight on ALDE SubCommittees